Digging deeper and wider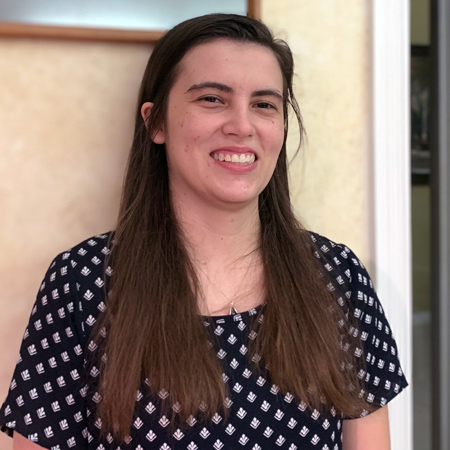 Finding those untold stories to add perspective is a big part of the work 2019 graduate
Katie Hatton does as an assistant editor of the papers of Martin Van Buren at Cumberland
University in Tennessee.
"What I learned from the public history program was about incorporating these various
perspectives in a way that helps us to more holistically look at historical events,"
Hatton says, adding that her work as an intern on the university's Pinckney Papers
Project with a former co-director of the public history program Connie Schultz led
to her job on Van Buren's papers.
"It was there that I really learned about opportunities within public history, not
just in museums, but also in the realm of what we call documentary editing — editing
and compiling a historical person's papers, which is what I do now with the Van Buren
Project."
Hatton says that while Van Buren's papers have been curated for quite some time, part
of what she works on is expanding the story of his presidency to include the experiences
of everyday Americans at that time.
"Sixty years ago when they were working on our project, it was about Martin Van Buren
specifically. And today it is still about Martin Van Buren, but it's also about the
citizens who are electing him, the citizens who care about him and his policies and
how he's trying to help them. It's the stories of women in his life and in the New
York area who are affected by his policies and try to affect change. It's about the
Native Americans and the Trail of Tears and what looking at their lives would tell
you about the United States at that point."
Telling those untold stories and preserving historically significant spaces that have
been ignored requires research expertise and money.
That's where 1999 public history graduate Megan Brown, who heads the State, Tribal,
Local, Plans & Grants Division of the National Park Service, comes in.
"Megan basically holds the purse strings for a lot of National Park Service grant
initiatives," Weyeneth says of his former student. "She holds an enormously important
position with the National Park Service."
Brown's division administers several grant programs through the Historic Preservation
Fund that provide money to local governments for preserving historic places and history.
Brown's team also helps develop and provides technical assistance to more than 2,200
organizations doing the preservation work.
"It's really kind of an interesting place where federal, state and local and tribal
entities all work together on similar goals," she says. "So it's kind of unique."
Many of these grant programs focus on preserving African American heritage sites,
including historically Black colleges and universities and sites important in the
civil rights movement.
"We've gotten a lot of civil rights money lately, and that's a period of history that,
for someone my age, we didn't talk about it much in school," Brown says. "So it's
tricky. Part of what we help with is the knowledge of those events and how to work
with underrepresented communities."
Brown says a highlight for her was meeting Leona Tate, one of the women who integrated
the New Orleans school system as a 6-year-old in 1960.
"Preservation's changed a lot," Brown says. "We're not saving the great white man's
house now. We're definitely expanding. And that's one of the most exciting things
that we're getting to do, especially with recent history. There are just these amazing
stories that we haven't really told yet.
"I'm hoping that the work we do tells the stories and saves these places."