With planes once again packed, U.S. airlines have mostly resumed the in-flight food and beverage offerings that they dropped during the early days of the Covid-19 pandemic.
Still, a few cuts remain in place, either as cost-saving measures or due to supply chain challenges. 
On June 1, United became the most recent U.S. carrier to implement significant reintroductions of in-flight food and beverage operations when it brought back hot meals in first class on mainline flights longer than 800 miles, replacing the packaged sandwich it had been serving during the pandemic. That same day, the carrier also resumed cold meals on trays for United First customers on regional flights. And on international flights, June 1 brought the resumption of three-course meal service in the Polaris business-class cabin on long-haul United flights. 
Other full-service airlines had beaten United to the punch. Delta resumed hot meal service in domestic first class in March after American did the same on domestic flights longer than three-and-a-half hours in February. Alaska was well ahead of both of them with its reintroduction of domestic hot meals for first-class customers last July. JetBlue revamped meal service in its full-service Mint cabins last November, when it resumed taking orders verbally in flight.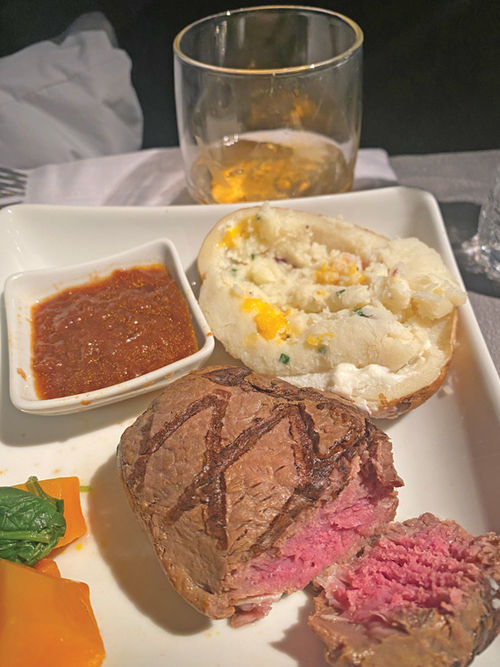 Multi-course meals like this one, which featured a main of beef filet, twice-baked potato, baby spinach and roasted butternut squash, have been resumed in American's longhaul Flagship Business class. Photo Credit: TW photo by Robert Silk
American and Delta have also resumed three-course service in their respective Flagship and Delta One international business classes.
The story for domestic economy cabins is somewhat more complex, though all the largest U.S. airlines, including Southwest, have resumed standard free snack service as well as alcohol sales.
American, however, hasn't brought back its broader food-for-sale menu in main cabins.
"Right now it's Pringles and almonds along with alcoholic beverages," said spokeswoman Leah Rubertino, who added that no timetable has been set for a broader resumption.
Delta has brought back most of its main cabin for-sale items, including a variety of snack boxes on flights of 900 miles or more that feature items such as beef jerky and Ghirardelli chocolates.
The carrier will announce more main cabin offerings soon, a spokeswoman said.
United has a variety of snacks and snack boxes for purchase on flights longer than 500 miles, and on flights longer than 1,500 miles the carrier is offering more substantial items, including chia seed pudding during breakfast hours and a barbecue burger for afternoon and evening flights.
Alaska said it was the first U.S. carrier to reintroduce fresh food and snacks for purchase in the main cabin and that unlike some competitors, it is offering meals on flights as short as two hours. 
"Unique from other airlines, our F&B offerings developed a cult following, namely our Signature Fruit and Cheese Platter," the carrier said.
JetBlue has resumed all in-flight services, said spokesman Philip Stewart. That includes a selection of beer, wine and liquor for purchase as well as snack boxes and fresh food choices that include a cheese plate, a Mediterranean salad and a turkey and provolone sandwich. The carrier also offers free self-service snacks.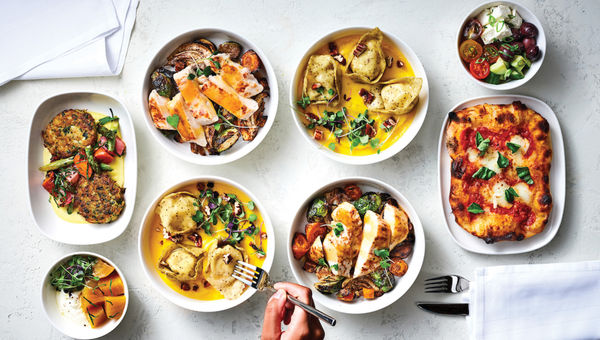 Delta resumed hot domestic first class meals in March, offering items such as French bread pizza, mushroom ravioli and chicken cacciatore. Photo Credit: Courtesy of Delta Air Lines
Covid-era changes remain
Still, a few other differences persist when it comes to airline service offerings now versus pre-pandemic.
For example, Delta has not resumed the differentiated meal service in its international premium economy cabin. Instead, Premium Select customers are receiving the same meal as economy flyers.
Gary Leff, who closely tracks the service offerings of U.S. carriers for his View From the Wing blog, said that other changes that airlines have made are more subtle. One positive one: American extended meal service in domestic first class to include flights that depart up to 9 p.m. The cutoff used to be 8 p.m.
On the other hand, the carrier used to serve hot meals to first-class customers on flights of 900 miles or longer. Now, cold meals are the rule for flights shorter than 1,500 miles.
Leff is among industry observers who think some of the cuts are a mistake.
"There is a little bit of misdirection as airlines start talking about their restored service," he said. "There does seem to be at least some attempt to hold onto pandemic-era cost cuts."
But some cuts, he said, are at least partially a result of supply chain challenges as well as staffing shortfalls at the catering contractors that airlines use.
Rubertino, however, said that at American, any ongoing supply chain-related adjustments are only minor.
"For example, the size of carrots might be different, or lettuce on the salad might be different," she said. "We always work to make that switch if needed."